Mayor–elect Jim Kenney won Tuesday's election over Melissa Murray Bailey with large support from the African–American community. Now, leaders here expect him to deliver on campaign promises of making the city a more inclusive one.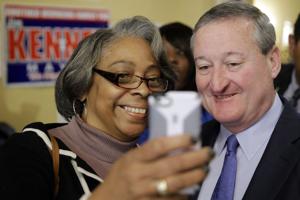 Mayoral Elect Jim Kenney poses for a photograph with a supporter on election day,. -AP Photo/Matt Rourke
"What we hope and would like to see, first of all, is for Kenney to select a diverse cabinet reflective of the demographics of the city," said the Rev. Terrance Griffith, President of Black Clergy of Philadelphia and Vicinity, who congratulated Kenney on the win and noted the organization had supported him from the start.
"Secondly we would like to see — unlike in the Nutter administration where we've seen a 2– to 3–percent increase in poverty in the city that disproportionately affects African–Americans — Kenney tackle the issues of poverty, and come up with ways to empower African–Americans in the city," he said.
Read more here:
Local Black leaders voice expectations for mayor-elect - The Philadelphia Tribune: News