Tribune Correspondent Samaria Bailey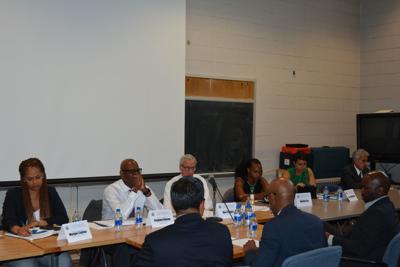 The Pennsylvania Legislative Black Caucus hosted a hearing on health disparities affecting African-Americans at Einstein Medical Center on Wednesday 7/10/19.
The meeting was one of a series held across the state on House Democrats' Plan4PA effort, which is focused on jobs, healthcare access, quality schools and jobs training.
"At a time when health care technology is advancing at exponential rates, people should not be dying from not having the medicine they need," said State Rep. Stephen Kinsey, D-201. "It's important that we work together to overcome to eliminate disparities and make sure that regardless of where people live or how much money they make, that they'll have quality access to health care. Ultimately, it will strengthen our communities and workforce."
The hearing included testimony from doctors, nurses, advocates and public health experts who presented glaring statistics on how Black and Latino people, especially those in underserved communities, have worse health outcomes than whites.
"African-Americans in general have a higher incidence of overall cancer. African-American women have a higher incidence of breast cancer death. African-American men have a higher incidence of hypertension," said Dr. Theodore A. Christopher, immediate past president of the Pennsylvania Medical Society.
Read more here