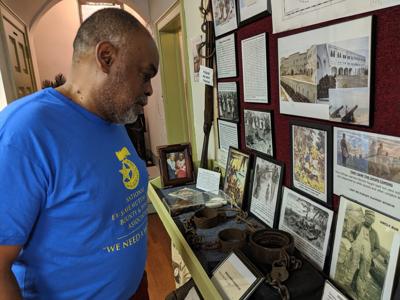 The Avenging the Ancestors Coalition will hold a 400-year Slavery-related Commiseration Commemoration at 2:30 p.m. at The President's House at 6th and Market streets.
Four hundred children are expected to participate in the event, which will highlight the oppression and struggles African Americans have endured throughout the centuries, including slavery, sharecropping, Jim Crow, mass incarceration and police brutality.
The program also will feature dozens of positive events, victories and African-American individuals "to show that Black people didn't just submit to the oppression that they resisted and, in many ways, won," Coard said.
"All this stuff touches home. It doesn't go back that far," says Germantown resident Mark Keenheel as he looks at items in the Lest We Forget Museum of Slavery recently in August. — PHILADELPHIA TRIBUNE PHOTO/MICHAEL D'ONOFRIO